Company
Credo
The relationship to our members of staff, to our customers and suppliers is open and honest.
We go along
We are active in the automation for the production processes as an independent enterprise. From the engineering to start-up we control the entire know how and offer thereby a high flexibility of our systems. From this we draw constantly new creativity and innovation strength for system approaches corresponding to real market conditions. Our market performances follows the market potential, the needs and expectations of our clients and partners.
We go in confidence and appreciation
Our well trained and motivated members of staff are solely responsible personalities, which furnish independently along-meant and gladly a high achievement. Our enterprise lives from the creativity, the commitment, the social and technical abilities of our members of staff.
We create advantages
We arrive to refined solutions and create for our customer real competition advantages through our long-time experience and well-rehearsed co-operation with our partners. Our products are fast, precisely, simple to execute and reliable in application. Each customer requirement will be singularly converted in our small firm.
We commit ourselves
To aim an appropriate net yield for the well-being of all involved ones for the provided capital.
The abidance in ecological, ethically and social principles.
In relation to a liberal free-market economy in democratic legal form.
Result
We are proud on our enterprise and take care to our principles.
Trend
A FULL RANGE OF DEVELOPMENT – FROM SPECIFICATION TO PROTOTYPE
«SDK-SYSTEMS» is an Ukrainian-Polish company with extensive experience in developing and commissioning our own equipment, whose purpose is the development and installation of automatic manufacturing systems and machinery for the special requirements of customers. We are the team of design engineers who are ready to bring your ideas in life, to increase productivity and improve product quality.
Why can we be useful for you?
For example, you have your company for the production of souvenir refrigerator magnets. In the beginning, when production volumes were low, only two girls fitted the magnets to the bottom of souvenir. They were doing their job well, the quality was high, the business made a profit and progressed. But today the production volume is increased, the number of girls has risen to 15 people, and also you need to increase the number of fitters and their individual rates, and therefore the quality is deteriorating, sales are down, profits decrease. Our engineers will develop a robotic line for your special requirements, which will replace a large number of workers, eliminate human error during assembly, will provide an excellent quality of the finished product.
Maybe, you want to manufacture and enter the market with the know-how device like this:
We will develop a complete suite of design documentation for the production of devices and will provide technical support.
You've got the idea to build your business on a constant increase in the number of vehicles and the acute shortage of parking places?
Any ideas? Our engineers will create, you will implement!
Our Team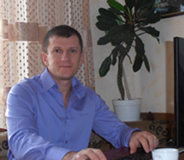 Dmitri Kawka
how we work
SYSTEMS – FROM THE CONCEPT UP TO THE INSTALLATION
For 15 years, our engineers specialize in custom-made automated production systems for industrial processes.
We offer you:
The complete system from one performer;
Close cooperation with manufacturers and suppliers of components and materials;
Highest precision and top performance of the developed equipment;/li>
Absolute possibility of manipulators;
The benefits of modular handling technology of machines.
Our robotic systems and manipulators show their reliability and durability in manufacturing plants during tough daily use.
Partners
Work offers
We are looking for people willing to develop their professional skills, reliable and open to new challenges.
IF YOU WANT TO JOIN OUR TEAM, PLEASE SEND US YOUR CV: info@sdk-systems.com.pl
інженер конструктор
apply!

Вимоги: 1) Розробка в середовищі SolidWorks; 2) Знання ЄСКД; 3) Знання ГОСТ, ДСТУ, ISO; 4) Досвід вітається. Обов'язки: 1) Проектування деталей і механізмів в області "Промислова автоматизація"; 2) Розробка креслень деталей і складальних креслень; 3) Запуск в експлуатацію розроблених механізмів та устаткування. Умови: 1) Робота в офісі; 2) Цікаві проекти; 3) Відрядження; 4) З/п від 8000 грн. Конт. особа: Костянтин Тел.: +38 (050) 967 1952 e-mail: info@sdk-systems.com.pl
Нам потрібен інженер-конструктор для роботи в Одесі.
electronic engineer
apply!

Requires electronic engineer in Krakow, Poland Duties:
1) Development of electronic devices based on modern digital, analog and microprocessor technology in the direction of "Industrial and home automation"
2) Creation of algorithms and programming microcontrollers
3) 3) Development of macros and plug-in software
4) Development of design and operational documentation
Requirements:
1) Programming skills in C/C ++, VB
2) Knowledge of modern element base
3) Knowledge of Common System for Design Documentation
4) Experience is welcome
We offer:
1) Salary - from 3200 zl brutto per month
2) Remote work
3) Interesting projects
4) Participation in exhibitions, conferences, events
5) Phased payment for the job
Contact: Switlana info@sdk-systems.com.pl svetlana.ako@gmail.com